"I want them to be encouraged and knit together by strong ties of love. I want them to have complete confidence that they understand God's mysterious plan, which is Christ himself."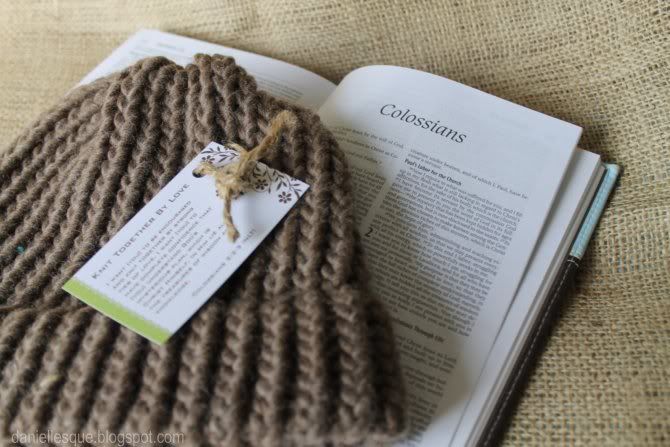 Knit Together By Love is a small ministry I founded in late 2008 on accident. I discovered the hobby of loom knitting that summer and loved to knit quietly before every church service, reflecting on my life, the ones I love and God's love. I was knitting Christmas presents for friends and family when a woman I did not know approached me and asked what I was making. I was knitting a scarf and she really thought it was beautiful.
When I finished the scarf a few days later I realized there wasn't anyone specific I was intending to give it to, which was rare (I almost always knit with intention!). I thought for quite awhile about who would like this unusual patterned scarf. Then I felt that God placed it on my heart to give it to the woman at church who commented on how beautiful it was.
I didn't know if the woman would be at church the next week, but I brought the scarf just in case. Sure enough, God placed her in the same spot as where we had met. I meekly presented her with my creation, thinking she might think I was a weirdo! Instead, the woman burst into tears explaining that she had been through a week full of trial; she wasn't sure if she had the strength emotionally to make it to church that day and asked God to get her through. She firmly believed that my gift to her was no accident, that it was God expressing His love and encouragement for her through me. What an honor I felt when she gave my simple act so much credit and what a gift it was for me to be God's hands to a woman in need.
Everyday there are people who are trusting in God but could use a tangible reminder of his faithfulness. Everyday there are people who do not know God who need a non-threatening introduction to our Savior. Everyday there are people who think Christians only judge everybody else and they could be shown our grace, kindness, and most importantly: God's Love.

After God used me to bless the woman at my church, I began knitting with a real purpose. I have knit for the homeless, I have knit for those stricken with cancer and other illnesses, I have knit for the hurting and I have knit for those on fire with Christ's love. Each project is knit for an individual who I pray for as I knit for them. I seek those who need encouragement, affirmation and love and pray that God will use my hands to make a simple but unique gesture of His presence. It is my hope that through a small token we might all grow to be more closely knit together by God's love and encouraged through one another.
I will include the journey of Knit Together By Love through my blog posts. My vision is to eventually have people all over knitting and donating their creations to each other or directly to the ministry to spread God's love.
If you know someone who you think could use some encouragement or affirmation by way of a Knit Together By Love scarf or cap, please email me at daniellesque(at)gmail.com with "KTBL REQUEST" in the subject line.
Thank for your love, support, and prayers!