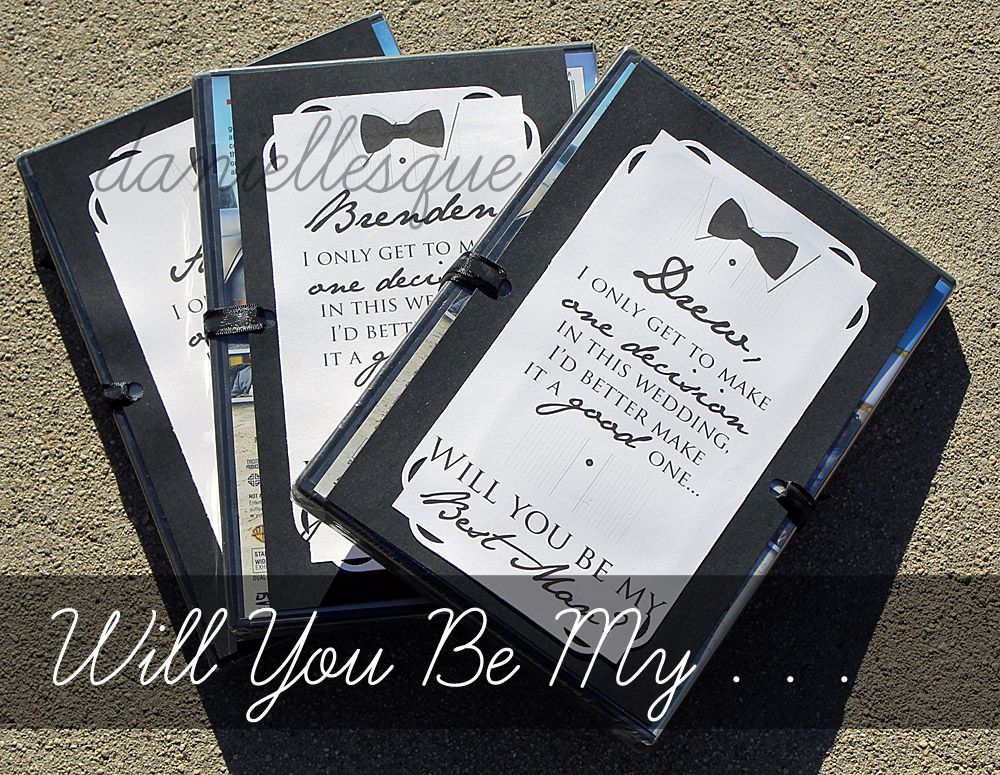 It's a total girly, Pinterest-y thing to ask your bridesmaids to be a part of your wedding. It's emotional, it's mushy, and if you're lucky, you might even get some happy tears out of the experience of formally asking your girls. Same goes with asking kids to be a part of your wedding: the cheesier the better and more memorable. But what about the guys?
I've mentioned before that planning on asking people to be in your wedding has been more fun to me than actually planning the wedding (can you say, "STRESS"?), so of course I wanted to make something for Tyler to ask his groomsmen. Because he hasn't decided on a final four yet, he hasn't asked any of his friends, so hopefully they won't read this post, but today I'm going to share what I made!
Inspired by
this
, I dabbled in Photoshop to make these cards which I attached to DVD copies of The Hangover. Sure, everyone owns The Hangover, but it's the thought that counts and I bought all of these last Black Friday for like $3 each. Very simple, very cute, but not
too
cute! ;)
I asked Tyler if they were too much, he said they were right on the cusp but as long as he could tell his guys that I made them, they were acceptable. HAHA! Note: I did NOT tie the ribbon in a bow!
Even though boys probably don't have to deal with nearly as much in a wedding, it's still nice to let them know that the groom cares that they said yes. Afterall, tux rentals aren't cheap and they still have to show up on the wedding day! ;) I think this is a cute tongue-in-cheek way to be silly and memorable when asking groomsmen to be in your wedding!