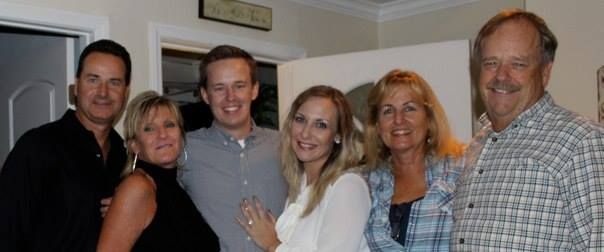 Tyler and I with our parents, love this picture, even if it's kind of blurry!
Can I take a moment to recognize the fact that I got engaged the same week as my favorite fictional female sitcom protagonist, Mindy Lahiri? That's probably the weirdest observation ever, but Tyler scored big there and probably didn't even plan it that way. I'll never forget how I told him about that episode just days before our proposal and said, "See! Even Mindy wants to Vine her proposal! I hope you plan to have someone take pictures!!" Oh, he had it covered. Like woah.
So I knew everyone was going to start asking us when the wedding is, but I didn't realize how stressful the question would be! Initially I wanted to just get it done quickly. There are a lot of reasons, some big (like how much cheaper it is to get married in fall and winter!), some are smaller (like how it would be really awesome to be married before my 30th birthday in January. I know, I'm weird).
But now that the big decision is upon me, I'm looking at my wedding savings fund and it's just not cutting it for as many loved ones with whom we want to share our day. I'm looking at our wedding party and a serious percentage of them are expecting their first babies soon and this is their time to enjoy that. I'm looking at the stress levels I'm feeling and not loving how concentrated they are because of my mindset of planning a wedding in four months. And finally, I'm looking at the number on my scale and, while it's not as dreadful as it could be, it definitely needs some fine tuning!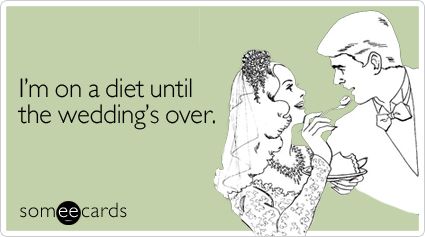 When I think about extending the wedding, I feel relief. But when I think about extending the wedding out a whole year (to avoid the more expensive summer season), I get kind of sad. Tyler and I are also looking to buy a house and in my perfect world we will find it 3 months before the wedding and get to move in together basically as a married couple (we currently don't live together). Pushing the wedding out a year means another year not living together (again, in my perfect world) and trusting that the house will happen when it's supposed to.
I know God has the whole thing planned out for us, even if it's not what I imagine. I should take my amazing proposal as proof that I need to just shut up, sit back and enjoy the ride. It's all going to work out, so settle down. Even Mindy chose not to rush it!
Do you plan on having or did you have a long or short engagement? Any feedback is super appreciated!
And for the record, a destination wedding is pretty much out of the question because my grandma doesn't fly. She said she would for me, but I wouldn't want to force her to do something she doesn't want to and I wouldn't have my day without her! :)