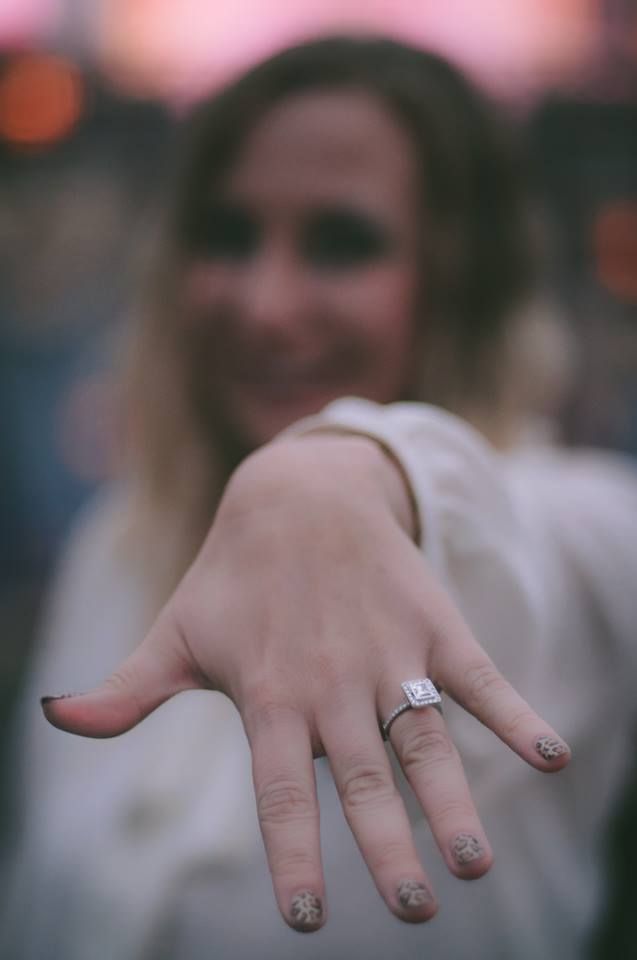 When I was little I remember watching a hidden camera show where a guy proposed to his girlfriend when she picked him up from the airport by having almost every single person on the flight hand her a single rose until she had a huge bouquet. The boyfriend was the last one off the plane and by the time he got to his girlfriend, she was holding a few dozen roses and he proposed. Because I was so young, I thought all proposals were that creative and I couldn't wait until one day a guy did something so thoughtful for me to propose! While most little girls dreamed of their wedding day, I think watching that hidden camera show led me to daydream about my proposal.
Unfortunately for eight-year-old me, most proposals are pretty simple. Granted, in this day and age social media perpetuates the idea of people always doing things larger than life, which is not an idea overall that I think is good; however, I'm willing to admit that I'm sure it added fuel to my desire for a super creative proposal.
I know that the bottom line is it's all about the couple, their love for each other and that they are prepared for a lifetime commitment together
. BUT I just want you to know what poor Tyler had to deal with, hearing about my hopes and dreams for a proposal on the planet Jupiter or something fairly comparable.
For at least six months I think we have been emotionally ready to be engaged, so by September I was completely on edge anticipating a proposal at any moment. We looked at rings, had my ring finger sized, and talked about general wedding details occasionally (much to Tyler's chagrin most of the time since we
weren't
engaged ha!). I knew it was coming, so that only made things more difficult for Tyler to surprise me.
On Friday night we had plans to have dinner with Tyler's aunts who were visiting from out of state. I had it in my head that we were going to show up at the dinner and all of our families would be there for him to propose to me there. On the way to dinner, Tyler wanted to stop by Disneyland really quickly (we're annual passholders) so that we could surprise his aunt with her favorite apple fritters sold in New Orleans Square. Of course I agreed, even though I had to trudge through Disneyland wearing 4 inch wedge heels. About halfway down Main Street I started to get cranky: my ankles were killing me, I was getting sweaty, and I just wanted to get to the dinner so that he would propose!!
Then Tyler suggested that we get a caricature portrait done. WHAT?! NO. I want to get to dinner. NOW! Ooooo, I was so cranky!! Not only was I in a hurry, but the caricatures at Disneyland are EXPENSIVE, especially compared to ones you can get done other places. Tyler insisted that he wanted to get it done for his mom for Christmas. I was so irritated because we go to Disneyland at least once a week, so why can't we get it done for his mom another day?! Tyler's best friend Drew was with us and had his DSLR camera (which actually wasn't as suspicious as it sounds because he always goes to Disneyland with his camera) and in hindsight I will never forget how Drew tried coaxing me into the caricature because he was in on everything. Not that I didn't know it before, but Drew is amazing and I'm so blessed Tyler has him for a friend.
So I finally, VERY begrudgingly sat down. The poor artist who painted us surely thinks Tyler is making a mistake because I was SO CRANKY (I'm somewhat forgivable for taking ownership of that, right???). I remember noting that Tyler did not talk to the artist before she started other than the typical, "We want to do this," conversation, so in my head I pretty much cancelled out a proposal. But I was SO ANTSY to get to dinner, that midway through the caricature I turned to him and said, "Are you going to propose to me right here, right now?" HAHAHA! I would have never asked him if I really thought it would happen, which makes me asking so funny! In fact, at one point before the caricature he offered to let me pat him down for a ring so that I'd stop being suspicious, which is why I really knew he wouldn't be proposing at Disneyland (it was in his socks, FYI!). Anyway, he said no, or may have sarcastically said yes, I can't remember. But what happened was NOT what I was expecting.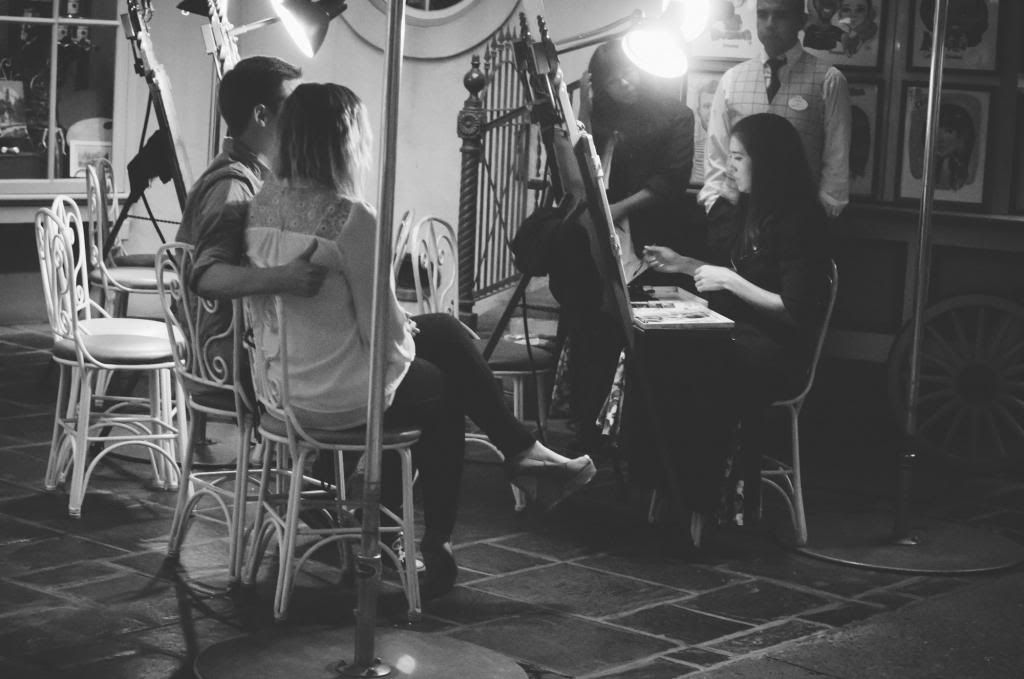 He's giving a thumbs up for the picture lol.
When the artist was finished (ridiculously quickly, I might add), she asked if we wanted to see the portrait and she turned it toward us....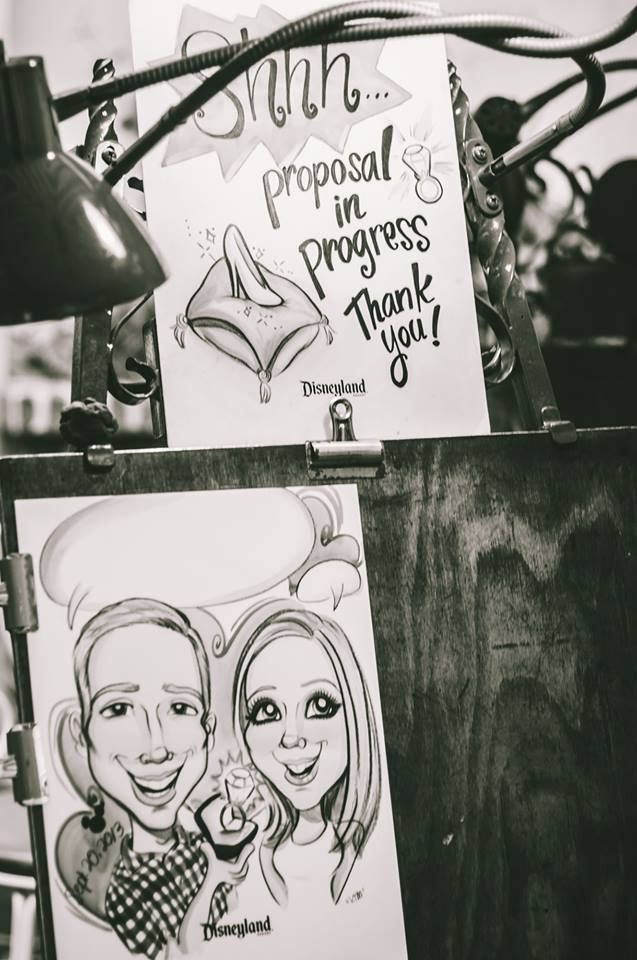 I was so confused because Tyler hadn't told her ANYTHING. I was totally in tune to everything, or so I thought. Apparently Tyler had come to set it up a week before, even giving them a picture of us so that the painting would actually already be done when we got there. He then met with them earlier in the day for final details. We actually ad an appointment!! This is especially funny because I came up with so many delays (I had to use the bathroom, I had to mail some letters from Disneyland, I had to buy a stamp for one of the letters, which they don't sell in the park and I checked at like 2 stores on our walk over...). POOR. TYLER. I love him so much!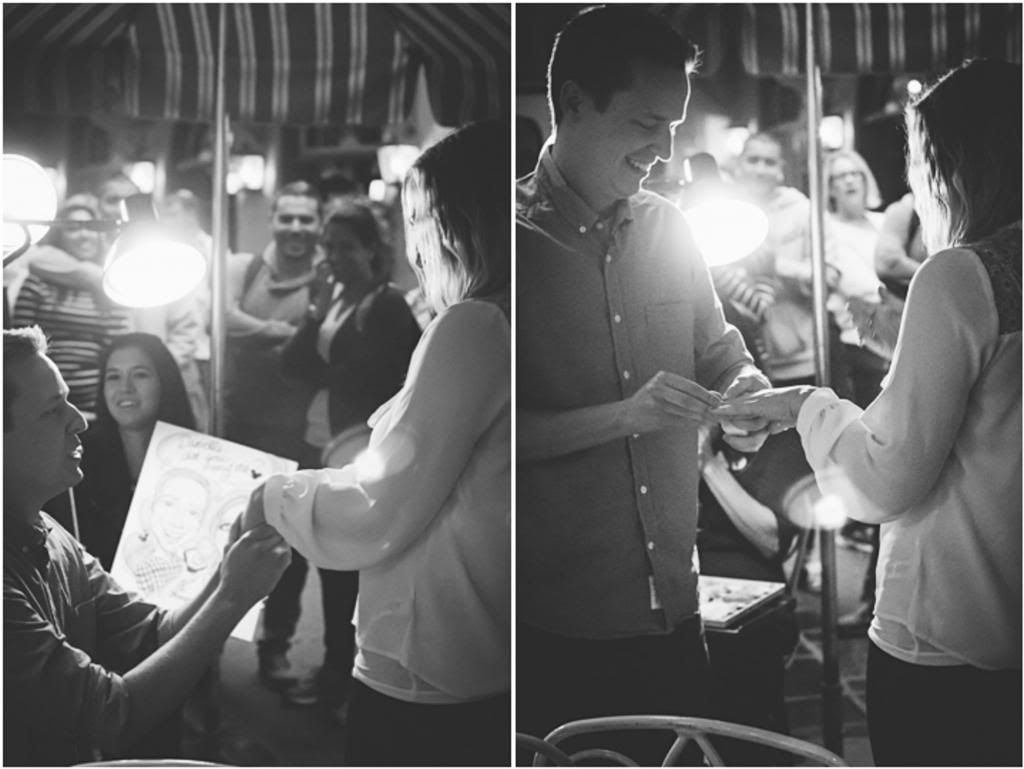 Neither of us remember exactly what he said, but I'm pretty sure I said yes and shook my head yes before he even spoke or I even looked at the ring. THE RING. It is perfect. It's better than I thought was possible! It's perfect!! I know that it's not important in the grand scheme of things, but it is so perfect and I know Tyler went through a lot of trouble to make sure it was the style I wanted. Again, I love him so much.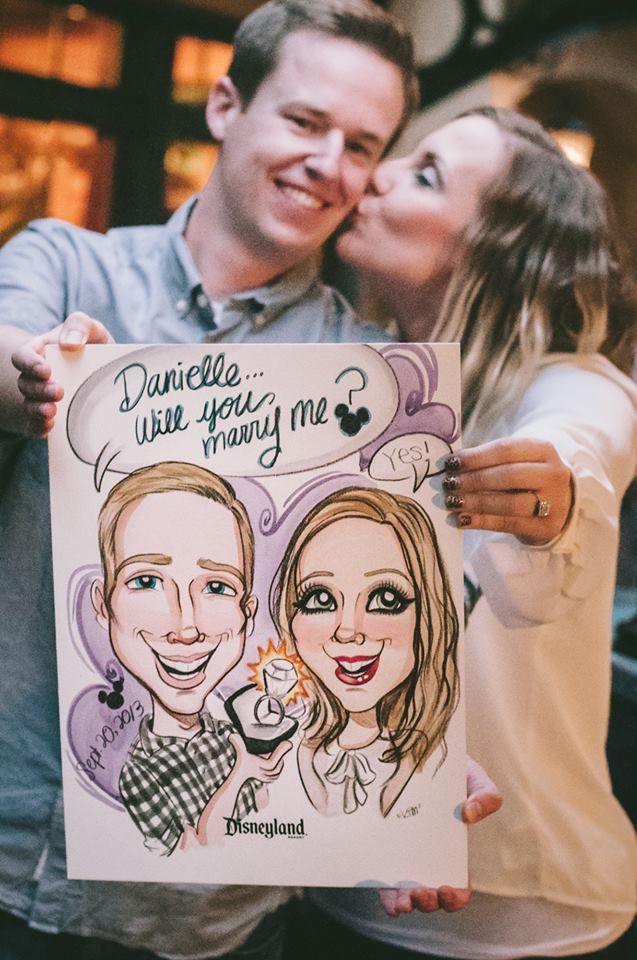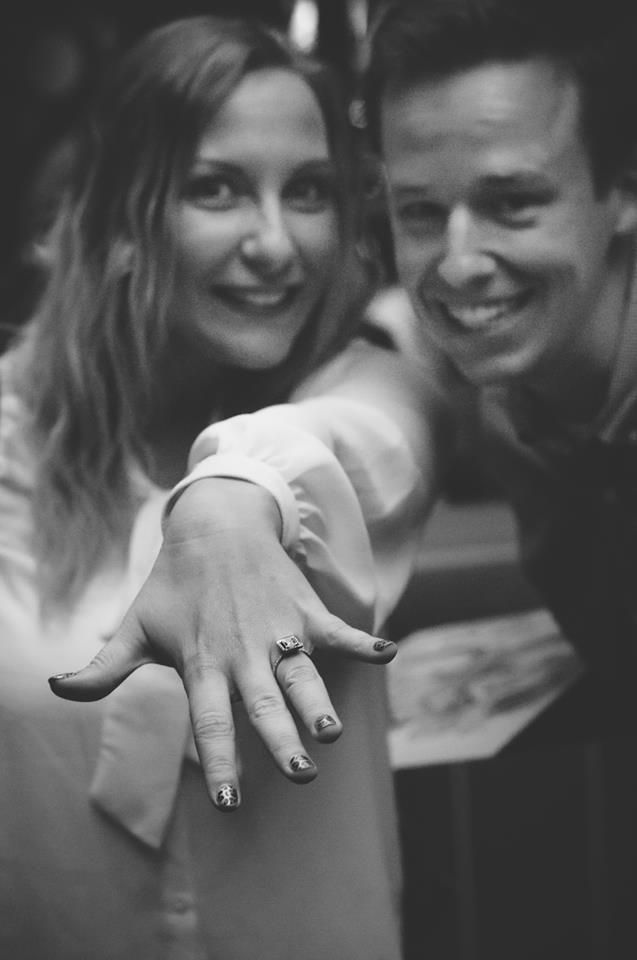 As if all of that wasn't perfect, my sister Taylor, who is a wedding photographer, pops out of nowhere (AT DISNEYLAND, $92 admission!!) with her camera and has captured everything!!! Did I mention that my sister and I were not really speaking with each other and my biggest fear about getting engaged and married was that she wouldn't be a part of it?? I WAS SO HAPPY. I can't even tell you. I got engaged to the man I love more than
anything
at Disneyland
in a perfectly fun, unique and surprising way in front of a ton of strangers and then my baby sister is
there
to capture the moment and
celebrate with me
?!
IS THIS REAL LIFE??
Did I mention how much I love Tyler?
This is the picture I texted my mom after it all happened!
All of the pictures of the proposal are from my sister, by the way. If you're in southern California and need a photographer for anything, you need to contact
Changed Lens Photography
!
Disneyland gifted us with a wedding ornament and some Disney pins, which was so special! I suggested that we go to the castle to get some pictures in front of it. While we were taking pictures, a Disneyland cast member congratulated us and said in 20 minutes they would be clearing the castle for fireworks but they would let us stay for photo ops without people in the background!! It was about a 20 minute wait, so we did it. We took the time to call our families and friends, text out the picture of the ring and take some candid shots. Eventually the Disneyland cast member said that it was going to be a longer wait because the park was so busy today. That's when Tyler started to stress because he had one other thing he wanted to do with me, but it was a surprise and it closed early. I asked what time it closed and he said he couldn't tell me, so I just went with the flow. I learned to stop questioning Tyler! LOL!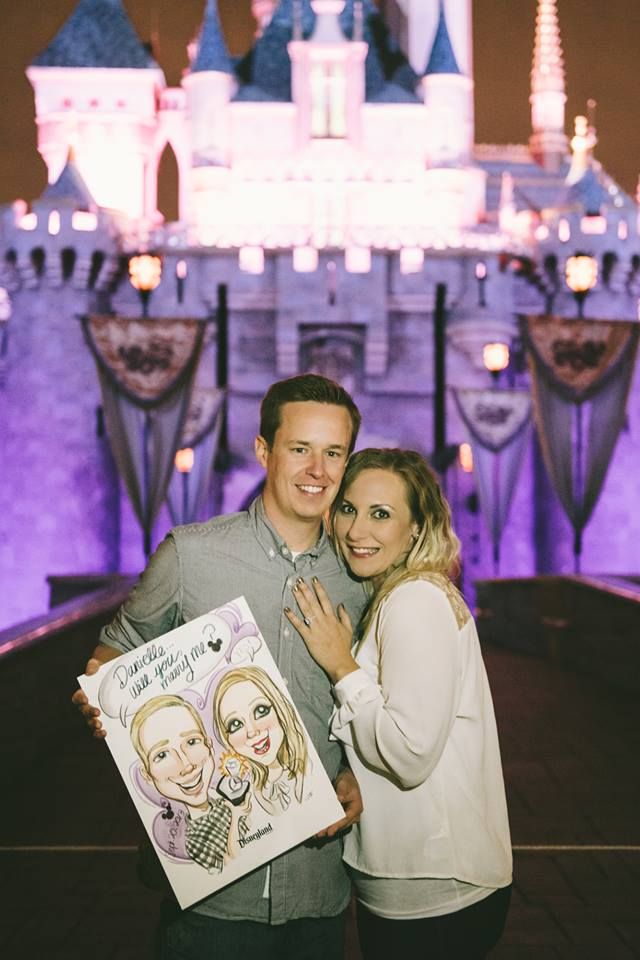 My favorite one!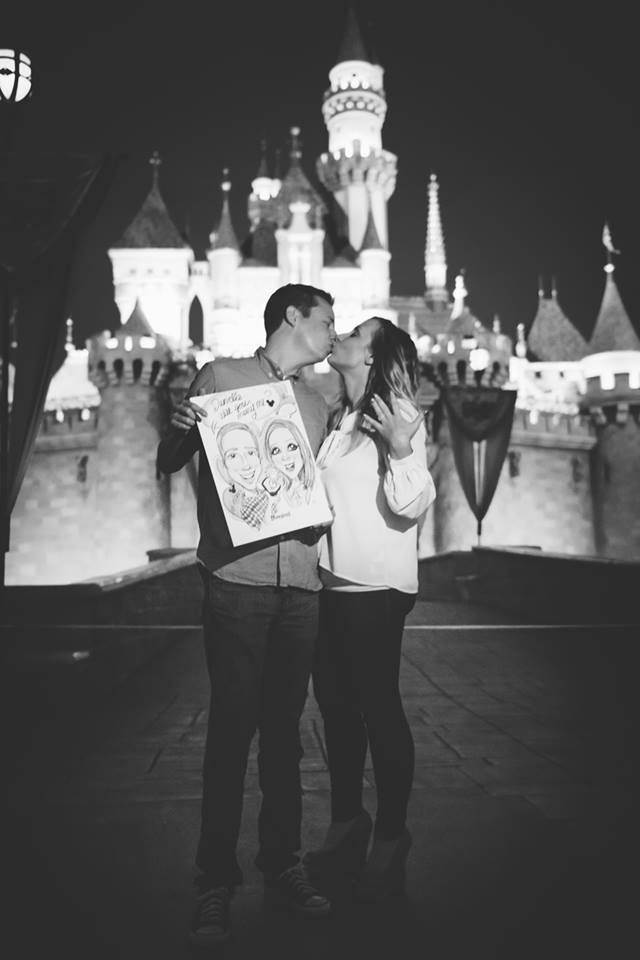 Eventually we did get our private pictures in front of the castle, and then Taylor took pictures of us walking down Main Street, so special! I wished I could spend more time with Taylor, but apparently we had to be somewhere. We had both promised my mom that we would go to her house and show her the ring, and I could tell Tyler was frustrated that we had to make a stop before the last surprise of the night. He stressed that we had to run into my mom's, show her the ring and then leave because we were really tight on time. I was focused and jumped out of the car as soon as we got there, running in my heels (my ankles were numb at this point...) and jetting into the house.
I opened the front door and there were a bunch of people in my mom's house, which isn't entirely odd. But then I saw my sister-in-law, Tara, who lives in Fresno (a 4 hour drive, one-way) at the back of the room and it hit me that everyone was yelling, "SURPRISE!" This was all for us!!!
Tyler and my mom (with the extreme help of my Auntie Lori, Auntie Margaret, Tara, Jenna, Jennifer, Kelli, Cathy, Annette and I'm sure so many others) had planned a surprise engagement party, which has always been a dream of mine to have after an engagement - except not nearly that extravagant!!! IT WAS PERFECT, to say the least! I remember hugging half the room before I remembered that Tara was there and I freaked out over that again. Also, my best friend Jenna, who lives an hour away (although it took her THREE hours to get there with LA traffic!) was hiding in the back of the room and I didn't even see her until I hugged Tara! It was so special!!
Auntie Margaret captured so many great pictures, which was such a life saver because I was way too surprised, discombobulated and excited to do much of anything!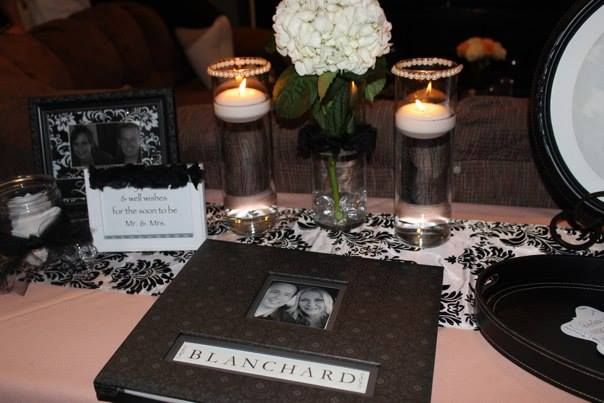 It was seriously a Pinterest wonderland!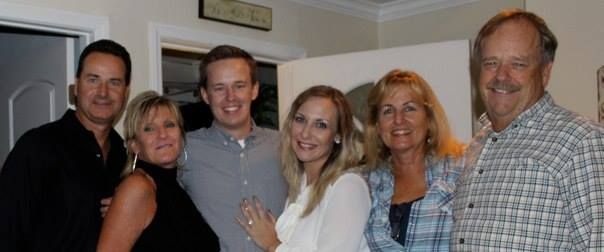 With our parents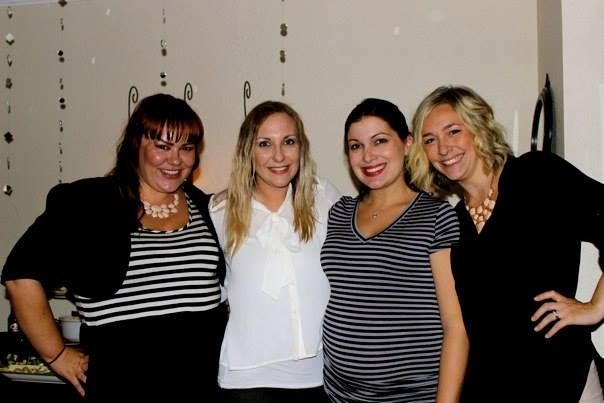 My girls!! + Taylor! :)
Grandpa's toast
With my pops!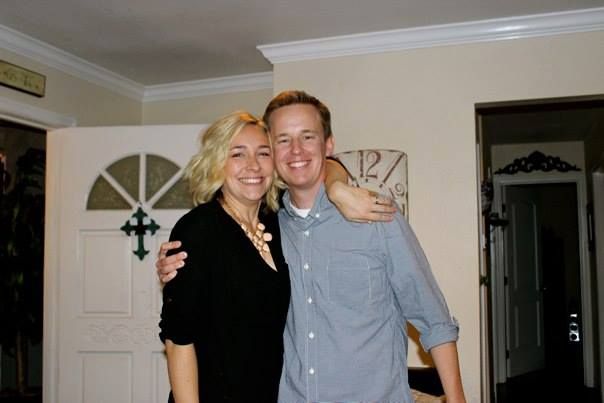 These two were both warned what they were/are marrying into, and they are brave! hahahah! ;)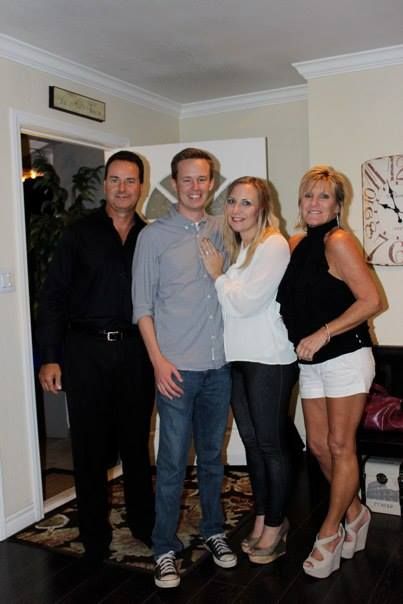 I love this! It's even more special because Grandma Hobel and I always bond together talking about our jewelry!
Me and some of my sisters and someday-sisters (wink, wink Jordan and Austin!)
Before we arrived haha! :)
Overall, our proposal was way more than I had ever dreamed of, even though I had some pretty outrageous dreams!!! I know that all that matters is that I'm marrying a man that I'm so excited to spend the rest of my life with, but it means so much to me that he knows what he's getting into marrying me hahahahh! ;)
Did I mention how much I love Tyler?? ;)