Last night my friend Brittany and I went over to our Auntie Margaret's house to teach her how to loom knit hats (she's not really our aunt, but we consider her honorary!). I taught Brittany a few months ago and she has been knitting up a storm ever since (
remember
my cute ear warmer she made me? She is awesome!)! Here is Auntie Margaret with her new
kit
!
Brittany brought her new
Martha Stewart loom
that I never was interested in buying until Brittany showed me how to use it and all the things you can do with it! Now I am very tempted!
Margaret picked up how to loom knit so quickly and easily. She didn't quite finish her hat over the course of the evening, but Margaret and I work together so we're going to wrap it up at lunch today!
I was really in need of a girls night because I've been going through a rough week, and this really hit the spot! Thanks, ladies!!
The best part is that the
Knit Together By Love
elves are working on a very special project this week. That's right - I now have elves! ;) More on this pile of hats on
Knit Together Friday
!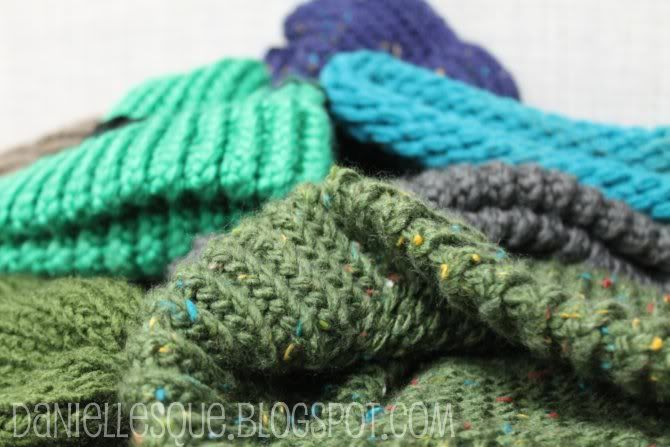 Thinking it might be nice to start having a weekly knitting night with the girls... hmmm...