I completely failed my 2 resolutions for 2011: save more money & get fit/healthy. They are the most stereotypical and cliche resolutions a person could have though, so I suppose I'm not the only one with them on my list again this year. These resolutions are big in the sense that I hope to not just incorporate them into my year, but into my regular lifestyle for years to come.
Inspired by
12 by 2012
(originally found on
this blog
), I have also set some smaller goals for myself. I feel like these goals are more manageable and in some ways will help with my larger resolutions. I find that blogging really helps hold me accountable for these goals; I get excited to cross things off my list publicly and to get to share my experiences with you.
So without further ado, here are my
12 Goals by 2012
: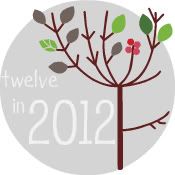 Maintain a memory jar & Captain's Log to preserve the memories of 2012
Knit/crochet 112 things (inspired by Minimalist Knitter)
Learn how to crochet
Learn how to use my DSLR camera on manual settings (I'm an auto girl right now :/)
Reach a predetermined quarterly savings goal at the end of March, June, September and December.
Finish my 2010 scrapbook (yes, 20

10

. That book laughs at me whenever I see it.)
Make a 2011 scrapbook (better late than never!)
Run a 5k (I cannot believe I just typed that!)
Finish my new niece or nephew's baby blanket before they're born
Take an actual class to learn something new (I'm thinking piano lessons, ceramics, painting, web design, photography, cooking, etc).
Travel out of state at least once
Read a minimum of 1 book each month (hopefully it will be more, but I have been slacking off so bad with reading it makes me sad)
I feel like a lot of these goals will motivate me to do things I have simply been putting off (*cough*scrapbooking*cough*) while others will be a real challenge (*5k!?*GULP!*I'm
not
a runner!). I am excited and feel like these will help give me a direction for this new year and will help make it one of the most productive years ever!
I made a button, in case you want to use it and make your own goals!