Happy New Year!! I can't believe it's 2012 already! Sometimes I think it's still 2008 so this is crazy! I hope you all had safe and fun NYE celebrations whether at home our out and about!
As you may recall, I set 12 goals for myself to complete by 2012 called
12 by 2012
. They were all pretty simple and were things I either needed to do or needed to be a creativity motivator. Here they are in all their glory:
D

a

ni

e

lle's Tw

e

l

v

e by 2

0

12
Collect all of my Knit Together By Love photos & post on this blog.

here

.
Get a gym membership. And use it.
Host a game night at my house with friends. here.
Buy a new camera. read update here.
Visit my little sis, Morgan.

here

.

Make a 2012 "Captain's Log"

.

Knit at least 3 special projects for Knit Together By Love.

here

.
Find a new home for my unused elliptical. Preferably for $$.
I'm very proud of myself and all of the things I have accomplished by today!! However, as you can see there are three items that aren't completely crossed out.

#2. Get a Gym Membership. And use it.
I got the gym membership! I did! I did! I did! I got it the week after Thanksgiving when the gym was having a great sale on monthly memberships. But here are my excuses why I haven't used it: I got sick & I had too much going on with the holidays. Last week was no excuse, I was just post-Christmas lazy. I'm going to be in my friend Nicole's wedding in April so there is no time for excuses: I need to get up and get to that gym!!

#12. Find a new home for my unused elliptical. Preferrably for $$.
Technically I found a new home for my elliptical: in my mom's garage. But my mom isn't too happy about that as it was supposed to be super temporary and now it's been over a month! I need to work on the part about getting $ for it. I'm thinking I will sell it on Craigslist and motivate myself to do it by using the sale money on a new iPhone 4s... Also, do you notice that more than half of my goals are fitness failures? Haha!



#6. Make a 2012 "Captain's Log"


This one requires some explaining. I stole the idea for a "Captain's Log" from Tyler and the name is just something silly I call it. Basically, a Captain's Log is a cross between a journal and a planner. You use a monthly planner or calendar to write a recap of the things you did that day after they have occurred. Tyler has been doing this for years and it's such a neat tool for recalling memories or events big and small.

Last Christmas Tyler bought me my very own Captain's Log (although we called it the "Wench's Log" ha), which was basically a planner that he raided my rhinestone bag to decorate for me. LOL! I must say, it has proven extremely useful (I used it for yesterday's post actually!)!

Besides the Captain's Log, I always find that I wish I had more time and a greater attention span to scrapbook. I started a 2010 scrapbook that ends somewhere in June and I'm so disappointed in myself for not finishing!

Then I had a light bulb moment a few months back: why not make a Captain's Log in the form of a scrapbook so that I can keep the memories in the same place as the log of events?! Sounds simple enough, right?

I bought a cute scrapbook in November, but of course standard scrapbooks only contain 10 pages. I needed 13 to lay out 12 months evenly. One thing I hate about scrapbooking is having to add pages to the book! UGH! Such a mess, I usually end up in tears and spend all day on it. So I have basically put this whole thing off until last week.

I am going to make a long story short and say that the mess I predicted above did happen. The scrapbook I originally bought for the Captain's Log turned out to be one that doesn't unbind!! So I had to shuffle around pages and clear out an old Scrapbook for the job (easier said than done when scrapbook pages aren't universal! ugh!).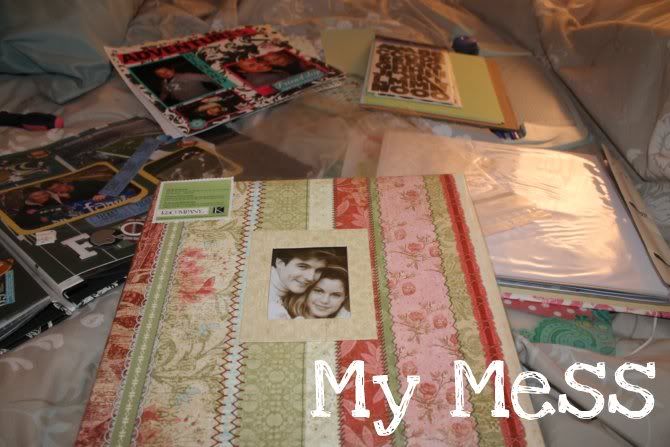 Once I finally had the book I got to working on the pages. I figured out how big my day boxes needed to be and cut out enough for January. Originally I was going to have each page pretty much the same with the calendar in the very center (split by the binding of course), but this made for very narrow margins to hold pictures, ticket stubs, receipts and other memories. So I decided each one would be a little different, skewed to one side. January's calendar is toward the top left to allow room for the additions to the scrapbook portion.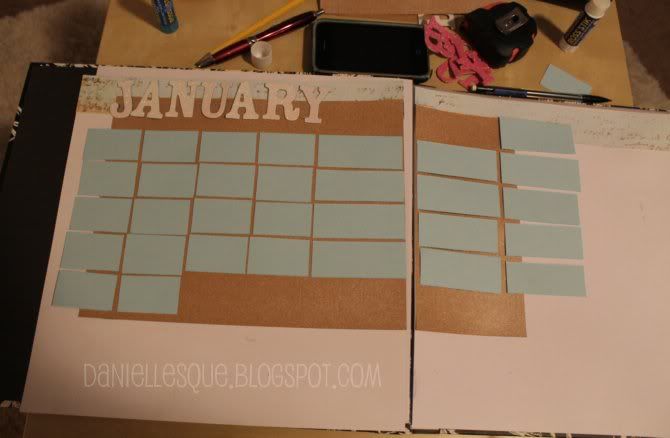 Basically this will be a template for a scrapbook in a sense, so it's hard to have had it "complete" by today (*EXCUSE!* ha). I suppose I got enough done to be somewhat satisfied with my goal and at least I got January about squared away!