On Saturday night (12/3), my dad and his wife took my brother Jordan and I to the Las Vegas Strip for some civil adult entertainment. Jordan just turned 21 this year, so he was itching to bet on some sports games! We headed to Caesar's Palace and while the boys bet on games and Vicky played in a poker tournament, I explored the Las Vegas Strip with my brand new camera.
I wandered to the Bellagio to visit their Conservatory. I had only seen it decorated for Spring, but this visit it was a Christmas wonderland!
I also went to the Bellagio's lobby which is one of my favorite places in Vegas all because of the hand blown glass installations on the ceiling - so incredible! The Christmas trees just made it extra amazing!
Finally I watched the Bellagio's water show, which was very beautiful.
World of Color is still my favorite though, sorry Vegas
!
I ventured back to the boys and got my drink on! I don't drink very often because I'm allergic to wine & beer so I have to drink hard liquor and I get drunk FAST. I had 2 margaritas and was tipsy! My dad had never seen me drunk and he was highly amused! (One of the highlights of the night was our mad search for pizza because I had drunk cravings!). We had a lot of fun hanging out, and I even placed my very first sports bet! Go me! ;) On our way home my dad drove us by the pawn shop from Pawn Stars. It was really cool to see in person even though it's so ghetto!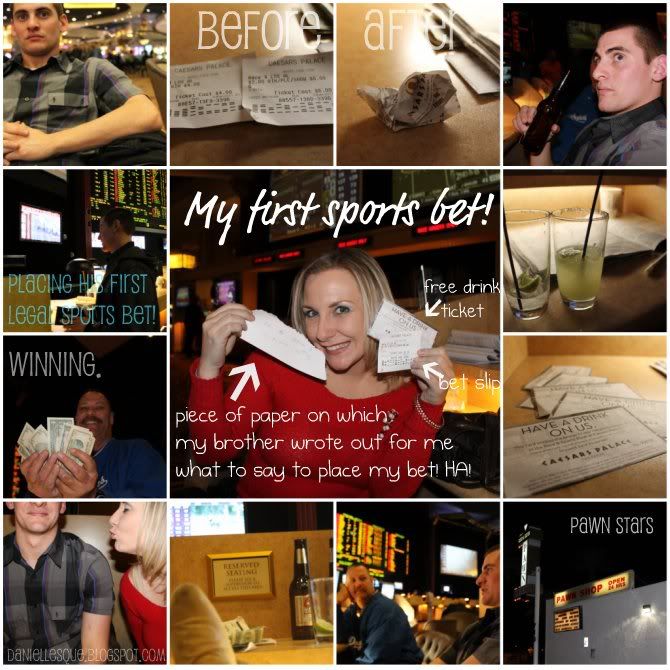 We got home at around 2am! I would have never expected to do that with my dad! (With my mom,
totally
. Dad- NO! haha!). The trip overall was a lot of fun! I'm sad my family lives a few hours away, but I'm very grateful that they are within driving distance!
P.S. Have I told you lately how much I love
Picnik
, especially their photo collages?! Well, I do! I just wish they would save to Photobucket in higher quality. Any tips?