Christmas was INSANE! And I mean that in a good way, of course! Which is why I have been so delayed in posts. I mean, it's December 29 and some of you might be sick of hearing about Christmas by now (
I hope not, but sorry if you are! haha!
) and I'm just now talking about it. Anyways, it was busy, busy, BUSY! And I don't even have kids yet... ugh! haha!
Christmas Eve
we had Christmas Eve dinner at Tyler's parents house to celebrate with his mom's family . . .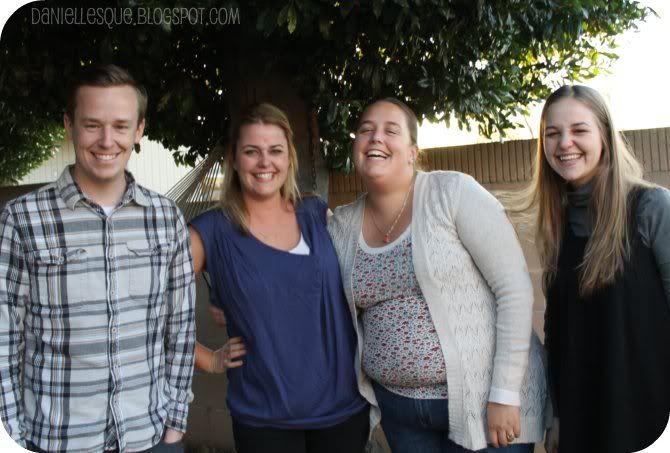 Tyler & his sisters on Christmas Eve. I made them laugh a lot, usually I can only do that with babies! ;)
. . . we also had a party to attend at my mom's house to celebrate with my stepdad's family.

My sister & her boyfriend / Mom's gorgeous tree / my brother, sister & her boyfriend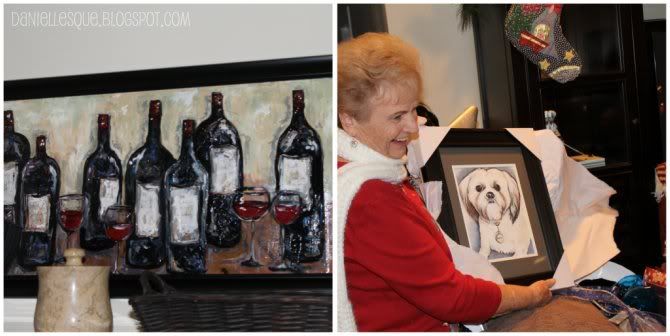 paintings my sister did as gifts, so awesome! One of the wine bottles is my name + other cool gals in the family!
Oh, and did I mention Tyler had to be to work at 10pm and work until 6am Christmas morning on basically no sleep? Eek, it was a Christmas miracle he survived!
Christmas Day
we went to Tyler's aunt's house to celebrate with his dad's family. I love that every year they take a group picture with everyone in attendance. Every year a lot of the group is the same, but it always changes a little bit. It's very cool to see this shot over the years!! The oldest generation of each individual family is in front, very neat!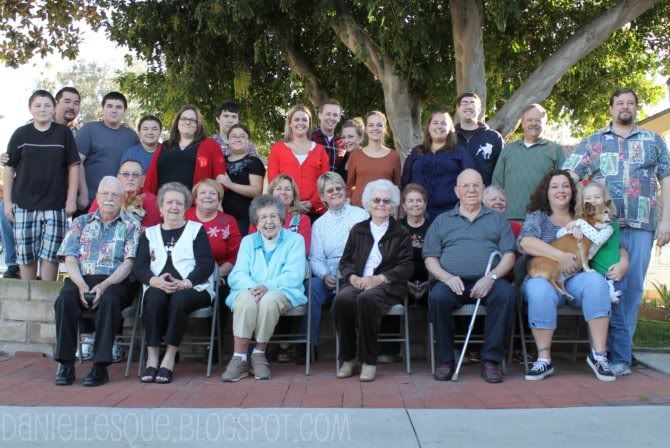 Since Tyler had to work at 10pm again that night and hadn't slept more than 3 hours the night before, I decided to let him go home and take a long nap rather than us try to squeeze our own Christmas in that night. We like to open each others presents together without the craziness of the family stuff because usually our gifts are pretty special and/or inside jokes nobody will get!
Unfortunately he had to work a double shift on Monday, so we didn't get to celebrate together until Tuesday night! To be honest, I loved this! It meant that Christmas hadn't ended yet, even after having to go back to work!! I think it really helped me deal with the blues that come on December 26th!
So on Tuesday Tyler and I finally got to celebrate together, which was really special. . .

Presents still under my tree on 12/27! / We know each other too well: his stocking is a cat, mine is an oven mitt! / Chucking tissue at me!

Me opening some presents! I got a good DSLR lens cleaning kit, external hard drive for all my pictures, lots of Disney stuff, gift cards, a crochet book, and more!! :) Tyler spoiled me!!
Tyler playing with his stocking stuffers & the mess that we made!! I spoiled him too with a new Blu-Ray player, his favorite movies on Blu-Ray, all the boring stuff he wanted (like 60 batteries lol), and other funny stuff!
Christmas was amazing and I am beyond blessed!!!
I truly hope all of you had just as amazing of a Christmas! I can't wait to try my hand at real crocheting (not knitting on a loom!!), learn more fun facts about Disneyland, and take tons of pictures with my DSLR camera that I can store on my hard drive! And most importantly, I can't wait for more fun memories with friends and family in 2012!! MERRY CHRISTMAS!!!