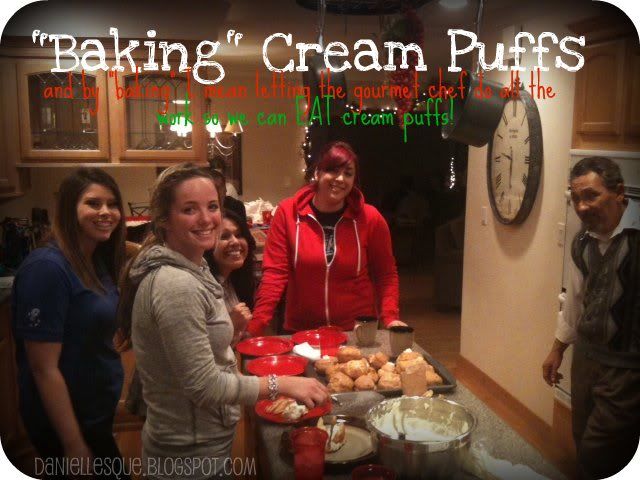 Danielle #2, Brittany, Margaret, Pepper, and Chef Raymond
Not pictured: me, Danielle #3, Charlie, Amy and Suzanne
Boys who snuck into the girl party not pictured: Ryan & Tim
Last week my friend, Margaret, invited a bunch of gals over to her house so her brother, Raymond, could teach us how to make cream puffs from scratch! Raymond is a gourmet chef at a retirement community and cooks & bakes for 220+ people each day!

While Raymond went through step by step and showed us the process of making the delicious dessert, I have to admit -- we didn't pay much attention!! (I'm sorry if you thought this was a recipe post!) My friend Brittany was there along with some other fun & silly girls so we pretty much talked each others ears off all night while we patiently waited for Raymond to finish the cream puffs for us to EAT! :)

Technically we also made eclairs!
We did get to pipe the cream into the delicious cream puff bread so we did
something
! Oh! And we poured chocolate syrup on top of them too! ;)

Brittany enjoys our Raymond's hard work! / my cream puff creation! / Adorable baby Charlie who helped! ;)
The night was a lot of fun! Brittany is married to Tyler's best friend so we sent the boys a voice text of us singing, "Dontcha wish you could eat cream puffs like us!" to the tune of the Pussycat Dolls song hahaha!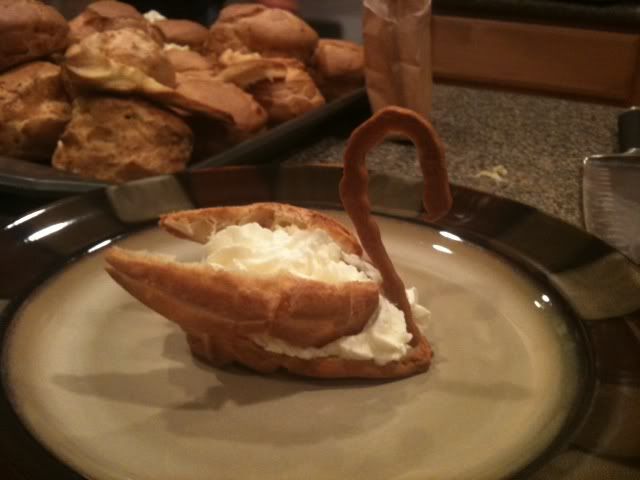 Here's the cream puff Raymond made - show off!!! haha! ;)
One of the best parts is that I also work with Margaret, so this morning she brought in left over cream puffs for breakfast! WOO HOO! :)
I hope you're getting in as much holiday baking as you can this week! It's my favorite!!
Marking this off my
12 by 2012
list! :)