Today is the last day of the Creating Christmas challenge! I'm excited that I made it through and created a lot of fun Christmas things! I hope you enjoyed following along and made some of them for yourself!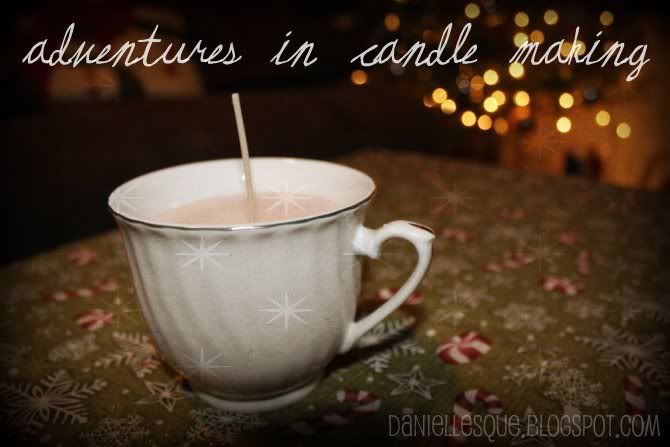 Candle making is truly an art! There are so many different things you can do to create one of a kind candles with unique colors, styles and scents! I will admit it is very messy, at least if you're like me and don't have a work space (
read: kitchen
).
DISCLAIMER
: WAX GETS HOT!! Don't get burned!! Don't do this if you require adult supervision!! Don't put anything that is
NOT
microwave safe in a microwave!! Don't do anything that isn't safe!! If you question it, check first!!
What You Need . . .
Candle Wax - I chose microwavable soy wax because I don't have a stove.There are many different types of wax to choose from though.
Candle fragrance - optional really, but who doesn't like yummy smelly candles?
Candle container - something to put the wax in. I used teacups and mason jars. You can also buy all sorts of containers in the candle section at your craft store (JoAnn's, Michael's).
Wicks - there are all kinds of sizes, types, etc of wicks. Just make sure they're longer than your candle container.
Container for melting (Not pictured)- it's important to have this! I used a mason jar because I didn't want to ruin any of my Pyrex by covering it with wax. I've heard a tin can in a pot on the stove works well too because you can throw it away when you're done!
What You Do . . .
1. Slowly melt your wax
according to its directions. If there aren't any directions, melt it slowly in a pot over the stove or in a microwavable safe container in the microwave. Don't burn it! I melted mine in the microwave 30-60 seconds at a time on 50% power, stirring occasionally (similar to melting chocolate!). I melted mine in a mason jar; if you do this, I recommend being
very
careful because it gets
HOT
,
especially the rim
!! Use pot holders or heat safe gloves if necessary.
Mix in
color and scent if desired once your wax is liquified.
2.
Position your wick
in the center of your candle container (teacup, in my case), and
slowly pour
the hot wax, filling as much as you want. Obviously, don't cover your wick. They make stuff that sticks your wick to the bottom of the cubby so it doesn't move and a lot of instructions talk about using chopsticks to hold the wick upright. I used neither of these and had no problems. May have been the wax, may have been the wicks, may have been that my candles were small. Do whatever works best for you.
3.
Let your candle set
for a few hours. Avoid shaking it or trimming/moving the wick until candle is completely hardened (I did both of these lol. Oops!).
4.
Repeat
until all of your wax is gone. I was able to do 2 teacups and 1 tiny mason jar (a little disappointed that that's all 1LB of soy wax will do!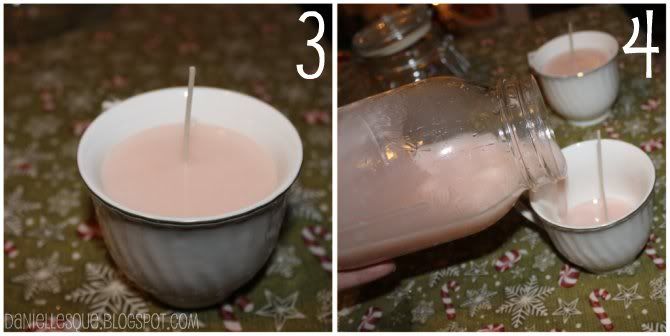 Really, that's it! Very easy, although if you're microwaving, it is a little time consuming to melt in 30-60 second intervals if you're as impatient as I am (At one point it felt like my wax would never become liquid but then all of a sudden it was!).
But of course I wasn't done... I had tons more mason jars sitting on my table just waiting to be used! So I went through my candle box and found some gross unscented candles I never use anymore . . .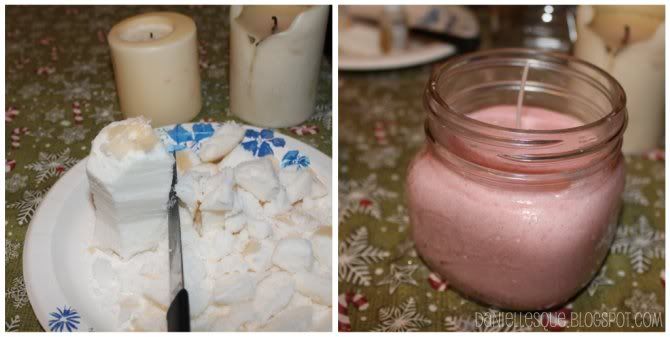 I chopped one up and repeated the process! This wax was definitely not soy wax and not very high quality. It remained pretty chunky, even in liquid form (looked like it was salted or something). The candle came out pretty cute, nonetheless!
Add some twine and burlap to the cap and I think it makes a darn cute Christmas present, no? Wouldn't this be adorable as a gift with some homemade scented bath salts also packaged in a mason jar? Hmmm?
Because the upcycled wax was so poor quality, I gave up after that. But I did make some darn cute little candles that I can easily gift for Christmas! I haven't burned any yet, but I'll be sure to burn one for myself to make sure it burns nice and smells like yummy Cinnamon Swirl!