Next week I'll be posting a tutorial on how to loom knit this basic cap.
While I promise it's very simple overall, it's going to look like a lot because there are so many pictures trying to depict the steps (In all honesty, it would probably be better to do a video tutorial, but I've barely stepped into the blogging world and am
not
ready to attempt vlogging!). So I've decided to break it down a little bit with this tutorial prep post to get you ready & excited.
DISCLAIMER
: I am not a professional in any way, shape, or form. I knit as a hobby and I loom knit because I know almost nothing about real knitting. I fully accept, understand and admit that people who knit and crochet with needles are superior to me in talent. Seriously. I just want to get that out now because I don't want you to think I think anything different! ;)
These are the things you're going to need + yarn (
more on that later
):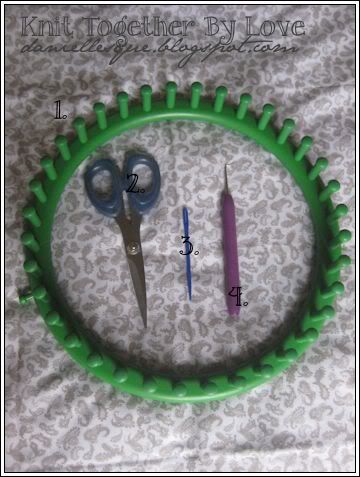 Round Loom

- This is a Knifty Knitter loom but you don't have to use this brand. This is the "large" loom and a pretty standard adult size, but there are larger and smaller sizes available as well. I think I have a pretty standard sized head, and hats knit on this loom fit me. You can buy a loom by itself or in a kit at most JoAnn or Michaels stores & online. I personally recommend this assorted set which is around $20 and sold in most major craft stores. (Sign up for JoAnn's or Michaels mailing lists for coupons galore!). If you plan to do a lot of knitting, this is a great variety of looms (includes the rake loom for scarves and the flower loom for yarn flowers).

Scissors

- Any kind that can cut through your yarn will do, they do not have to be fancy.

Loom Knitting Needle

- this will generally come with your loom or loom kit.

Loom Knitting Hook

- this will also generally come with your loom or loom kit. If it doesn't or you lose it, you can purchase both the Needle & Hook in a set for around $1 at your craft store & online.
This (+ yarn) is all you need to knit a basic cap on a loom. Of course if you want to add a pompom or yarn flowers, etc, you may need additional tools.
For this project you will need approx
50-75 yards
of yarn (and I think I'm overestimating for safety). The skein will tell you how much yardage it contains & you probably won't need more than
1 skein
of yarn for this project.
For knitting hats on a loom I recommend
bulky yarn
. I love the Sensations
"Sumptuous" line at JoAnns because it's so thick and... well, sumptuous! I also highly recommend Lion Brand "Wool-Ease Thick & Quick" yarn for hats (it's my favorite actually!). Both this Sensations yarn and the Lion Brand Wool-Ease Thick & Quick run from $6-9/skein depending on store & sales. You will only need to buy 1 skein of either of these for this project.
This is the yarn I will be using for the tutorial (I have been eying this color for weeks and this tutorial gave me an excuse to buy it!):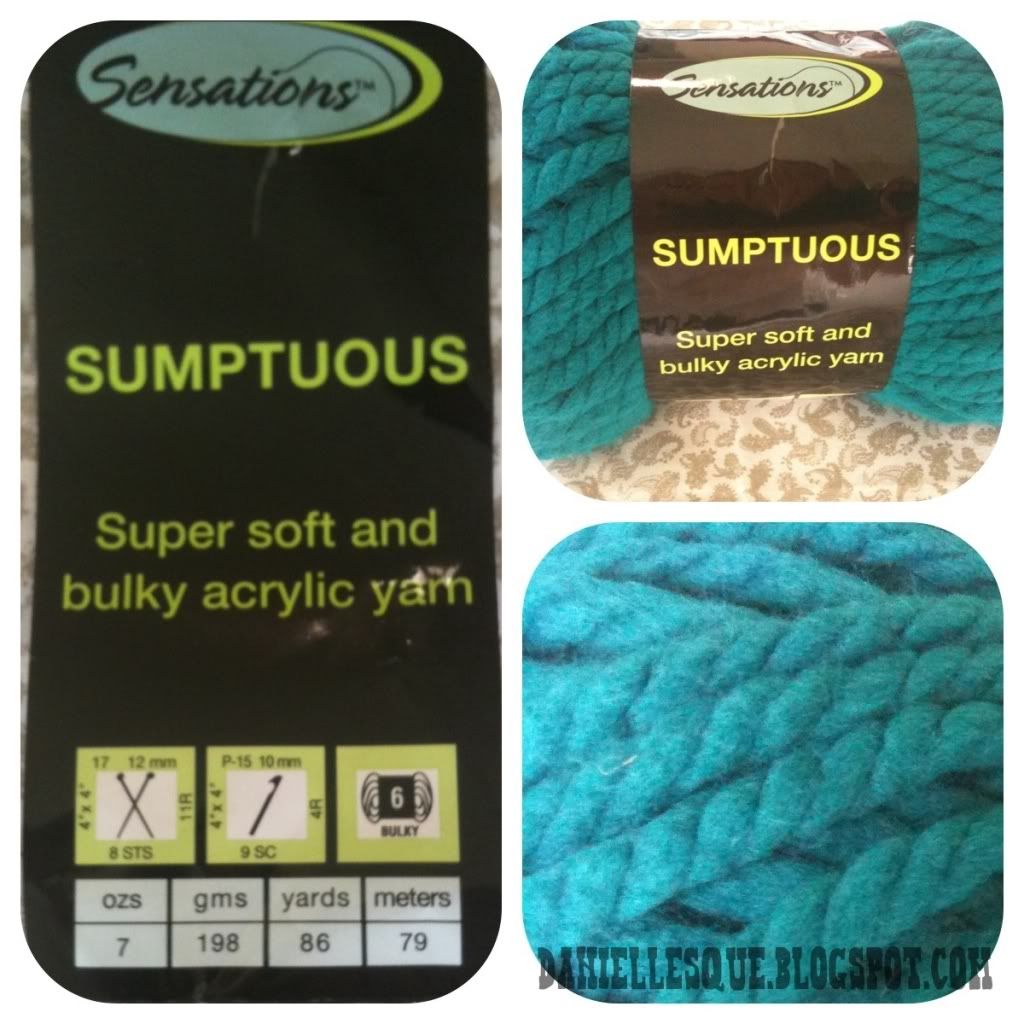 You can really use any kind of yarn, but I don't recommend the really thin "traditional" yarn (Bulk level of 1-2). The thinner your yarn the more hole-y your cap is going to turn out. You may want this effect, but I would recommend experimenting with design after you have the basic technique down.
Editors Note

: While making this tutorial I found that this yarn was a little rough on my fingers! I built up some callouses considering how soft that yarn looked! I mean, I wasn't bleeding or anything, but I thought it would be something for beginners to take note of and be warned about. Just don't let it scare you away!

Go hunt these items down this weekend and I will have a tutorial for you early next week! Feel free to email me at daniellesque(at)gmail if you have any questions or need help.