Can you believe that Thanksgiving is
one
week from today? I am thankful for another year of not having to do anything but show up to my aunt & uncle's house to eat! :)
What better reason to link up with blog friends to celebrate what we're all thankful for!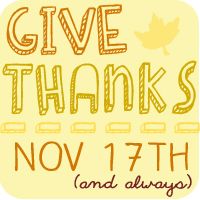 Today I'm giving you 11 things I'm thankful for in 2011 (in no particular order!).
1. Family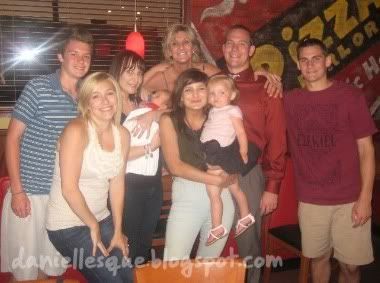 Yes, this is so cliche, but it's true!! I have an amazing dysfunctional family who would do anything for me and I would do anything for them. We laugh, cry, fight, defend, tease, and love like nobody's business!! From my amazing brothers, sisters, and parents to my extended family of aunts, uncles, and cousins galore - I love my family and could not live without them!

2. Friends
post
devoted to these characters, so you know I mean business! I strongly believe that old saying, "Friends are the family you choose for yourself". When someone asks if I'd rather have a few close friends or a ton of casual friends, I ask why I have to choose: I already have a ton of close friends.
3. Tyler
4. My Job
like
my job. But I'm thankful for it, that's for sure!!! Especially in an economy like this where having a job is serious. Not only does mine pay the bills, but I work with an amazing team of people. Also, this year they sent me to the corporate office in New Jersey for a business trip
and
let Tyler come
and
let us both stay in New York City for the weekend after with paid hotel & food!! Smack me if I ever complain about work again.
5. My Health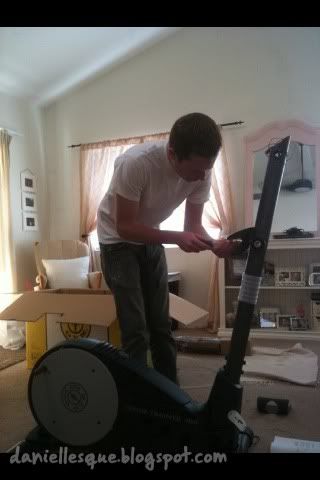 Tyler setting up the elliptical I never use...
I totally take my health for granted. I complain I'm fat, but I don't diet or exercise. I "forget" to take my multivitamin. And don't ask me about the last time I went to the dentist. I am so lucky that nothing is majorly wrong with me and thankful for my health!
6. My Education
7. My Faith
Knit Together By Love
and all the friendships I've made through it. I'm thankful that God uses me for the good of His Kingdom. I'm thankful for this everyday.
8. Where I Live
Disneyland, San Diego Chargers game, Tori Spelling (you thought I was bluffing, didn't you?)
This sounds silly, but I couldn't live anywhere else!! California has great weather, beaches, mountains, everything! I can go to Disneyland any day of the week. I can go to most any type of sporting event and every band tours at least 1 venue in my area. I can go down and meet Tori Spelling at the Grove if I want! Sure, it has its cons, but it's the best place to live for me! I'm thankful I'm here!
9. My Car
Saying goodbye to Little Red / Saying hello to Silver Bullet
Another one that sounds silly, but I am SO thankful for my car!! This year I said goodbye to Little Red, my 1995 Honda Civic (and first car ever) and bought a brand new 2011 Honda Civic EX-L. It also sounds silly to say, but I found God through my entire stressful car buying situation and it was incredible! Having a brand new car is really important to me because I have family in Fresno, Las Vegas and a best friend in San Jose. My car gives me the freedom to drive to them whenever I want! That is a feeling that most people with reliable transportation may take for granted, but I am so thankful for it today!
10. Black Friday
11. The Holidays
I encourage you to blog about what you're thankful for! Happy Thanksgiving! :)