Today I discovered the blog
Mrs. T, Naturally
when browsing all the amazing linked up blogs on
Changing Lanes
&co's October Follower Fest. I'm still so new to blogging so I'm kind of just looking around, so impressed and inspired by the amazing people behind the blogs I've been reading! I have so many great ideas and yet I'm also a little intimidated by everything! (all of that in a post another time!)
Anyways, Mrs. T's recent post about
Priorities
was one of the many things lately that has reminded me of something I have been trying to forget: that my "Christian-self" has become a compact part of my life rather than a way of living. I have been dealing with a personal struggle, not regarding my own faith, but the faith of important people in my life. Instead of embracing Jesus with everything I have and trusting that He can do absolutely anything regardless of circumstances, I've been so doubtful that it has caused me to push the dilemma to the back of my mind, pretending like that's an okay thing to do.
But it's not okay.
When I
list
my priorities they tend to start with God. But when I look at the way I live my life, God isn't at the top at all (hey, I'm being painfully honest here!).
Today I'm taking a small step toward God by getting behind Mrs. T's movement for "Bible First." I will choose to read the Bible first rather than do other things that may seem more practical or important. I know that by planting that tiny seed of faith by that action I will soon reap the spiritual benefits come harvest time.
I have heard it said repeatedly that the Bible is God's love letter to us. And as my pastor once expanded that thought: how are we supposed to grasp His love and let it show in the way we live our lives if we don't read it? I'm going to choose to read The Bible. It's my start.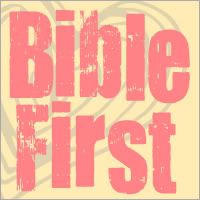 P.S. This realignment of my priorities has even helped me to refocus on my knitting ministry
Knit Together By Love
and I just made a tab for it on this blog! Check it out and let me know what you think!!