Happy Halloween
!
Today I'm linking up with the October Follower Fest that
Changing Lanes
,
Casey Leigh
,
Much Love, Illy
, and
Boho Baby
have so wonderfully put together! I'm a little late but my blog is super new and I am much in need of blog buddies so I would really love to get to know some new people! Thanks so much for stopping by!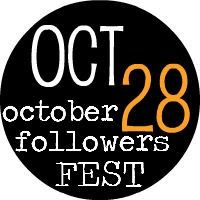 Halloween is one of my favorite holidays, and although I didn't dress up this year (shame on me, right?!), I did get to celebrate at
Disneyland
in Anaheim, Ca this year!
On Sunday, my friend Frances and I ventured over to
Disneyland
to ride the two attractions that get revamped for Halloween:
Haunted Mansion Holiday
&
Space Mountain Ghost Galaxy
. Of course, Disneyland never stops short of making the holidays larger than life...
Disney character jack-o-lanterns at the entrance to Disneyland: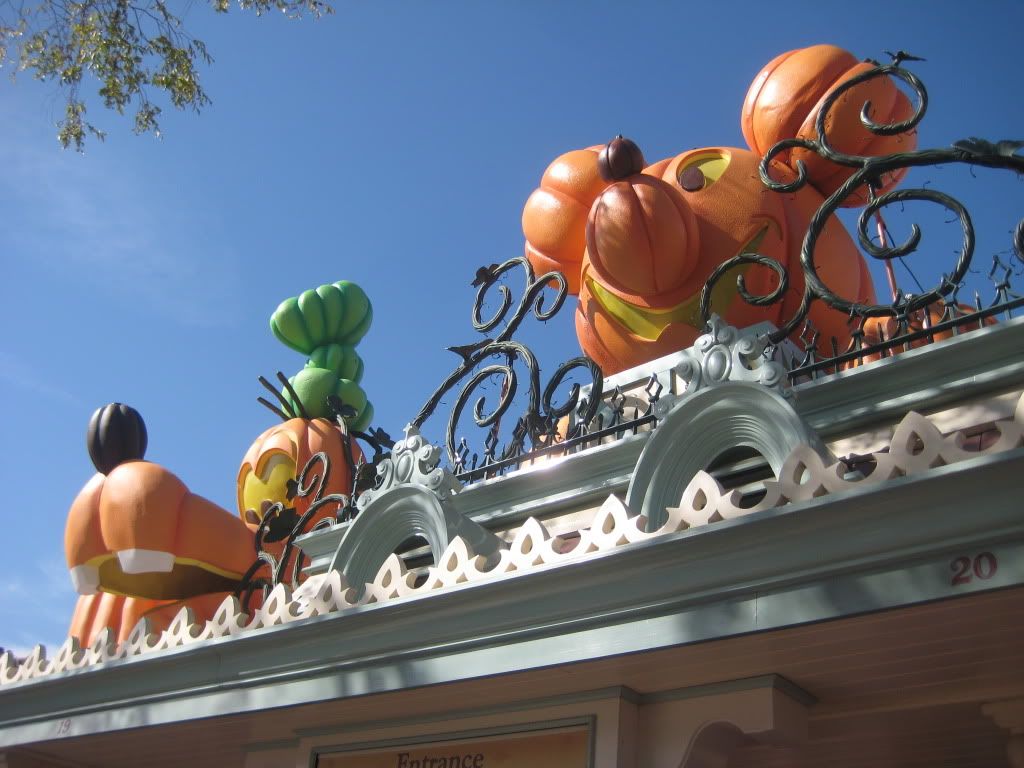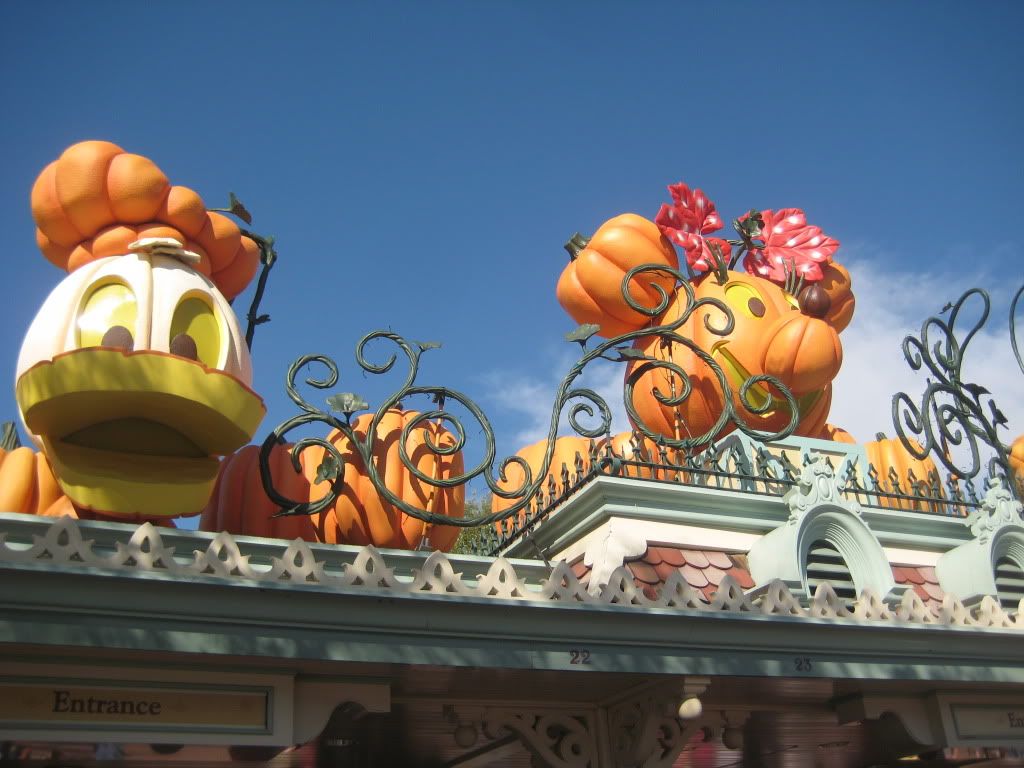 The park was packed with people who, like us, were utilizing their last chance to take in the wonder of Disney at Halloween Time! Of course, we were not surprised that the lines were 60+minutes for all the best rides. We got a
FastPass
for Space Mountain and rode some other rides, including the recently redone Star Tours: The Adventure Continues. We ate lunch and finally decided to wait in the long, long,
looong
line for Haunted Mansion Holiday. As our luck would have it, a lady approached us and gave us 2 FastPasses she didn't need and we got to pass the line instead of wait! What a great surprise!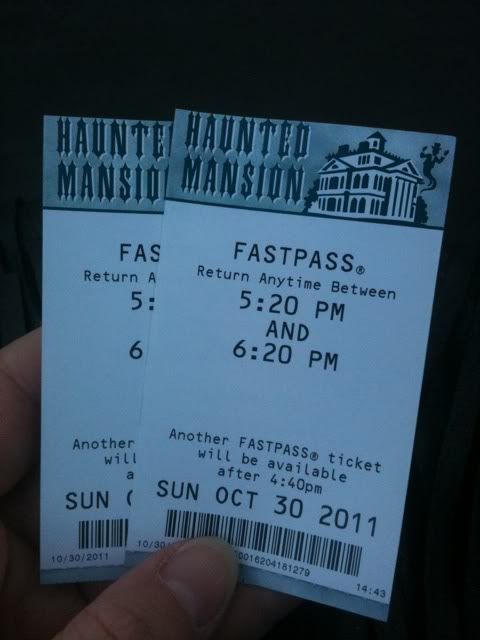 For Haunted Mansion Holiday, Disney transforms the Haunted Mansion into a Halloween+Christmas Wonderland based on Tim Burton's
Nightmare Before Christmas
. I didn't grow up watching
Nightmare Before Christmas
like most of my friends did, but I still absolutely love the Haunted Mansion Holiday attraction! It was especially neat to see this attraction because the day before I had seen a Tim Burton art exhibit (which I will post about tomorrow!), so I kind of felt like I was seeing this ride through a new lens.
The front & side view of the building (notice that LONG line we didn't have to wait in!)
My non-flash interior shots were with my phone so most of them didn't come out. Here are some semi-decent pictures: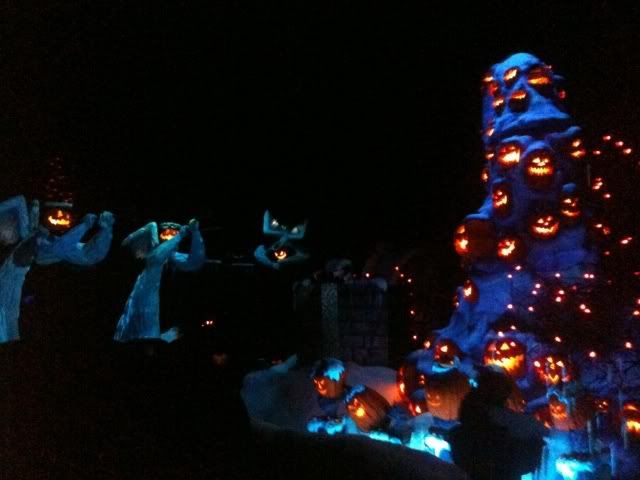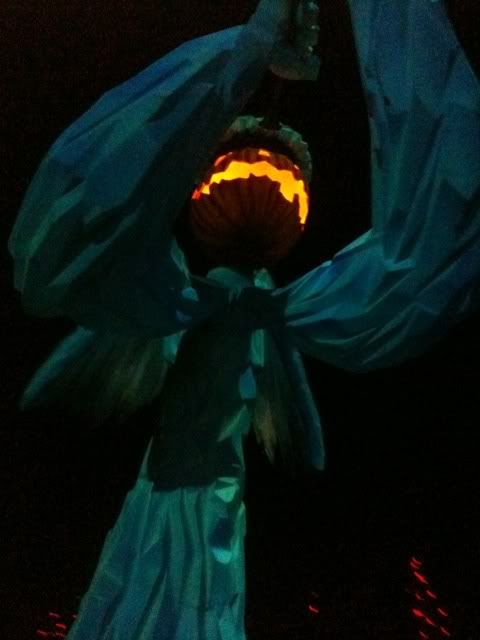 After Haunted Mansion Holiday we ran over to Space Mountain Ghost Galaxy.
It just so happened that an old friend of mine was operating the ride and let us ride it twice! It was so much fun! Definitely not traditional Disney; much, much scarier! Riders fly through space while projections of eerie red ghosts chase them throughout the ride. Last year I got to ride it for the first time and it was much scarier than I anticipated, but not too scary to ride again and again, especially for Halloween!
Frances and I had a great day at Disneyland celebrating Halloween and I am tempted to dash over there after work to ride their Halloween attractions again! Maybe next year I will try their specially ticketed
Halloween Time
event for even more Disney Halloween fun!
I wish everyone a safe, fun, and candy filled Halloween!!