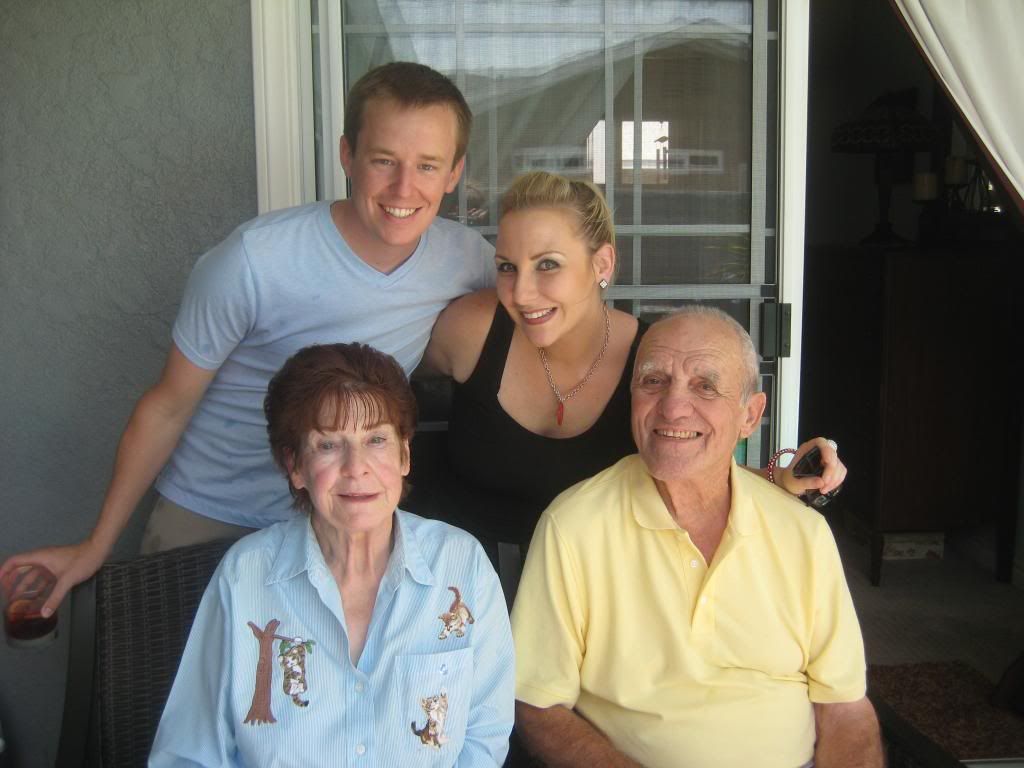 One June 12 my grandfather passed away. I know that death is a natural part of life, but it is still completely blindsiding when it happens, even when it's your own grandparent who has lived a long, full and successful life. My grandpa was more like a father to me and I had the opportunity to write and deliver his eulogy for his funeral service. I was scared out of my mind, but my grandpa is somebody who is worth going outside my comfort zone for in his honor. Today I'm going to share the eulogy I wrote. Maybe his life will touch yours even if you never had the chance to meet him.
----------
Daniel Van Dyke is my grandfather and he was the greatest man I have ever known.
Born on December 13, 1933 in Bloomington, Indiana, Dan was one of six kids. When he was around 12 years old, Dan and his family moved to California where his story really begins.
Dan was always very interested in transportation. He either wanted to be a truck driver, an airplane pilot or a train conductor. Although, now come to think of it, I don't know if it was that he was interested in transportation or if he just always loved to be in the driver's seat. When he was 16 years old, Dan got his first truck job for Dorothy and Harry Shubin.
During the summer of 1951 when Dan was 17 years old, he noticed a cute girl named Ginny working in the office at The Shubin's trucking company during her summer break. She was only 13 years old, so naturally he didn't pursue her. But the next summer when she returned to work he couldn't believe his eyes. The question my grandpa asked every single time he told this story was, "Have you ever seen a flower blossom?" That was how he described the way my grandma transformed in that year. I must have heard him tell that story more than a dozen times and he always used the same words but lit up brighter with each re-telling. Their first date was at The Pike in Long Beach where they took a photo booth picture that Dan kept in his wallet and never removed in the 63 years of their relationship. It's still in his wallet in his back pocket right now.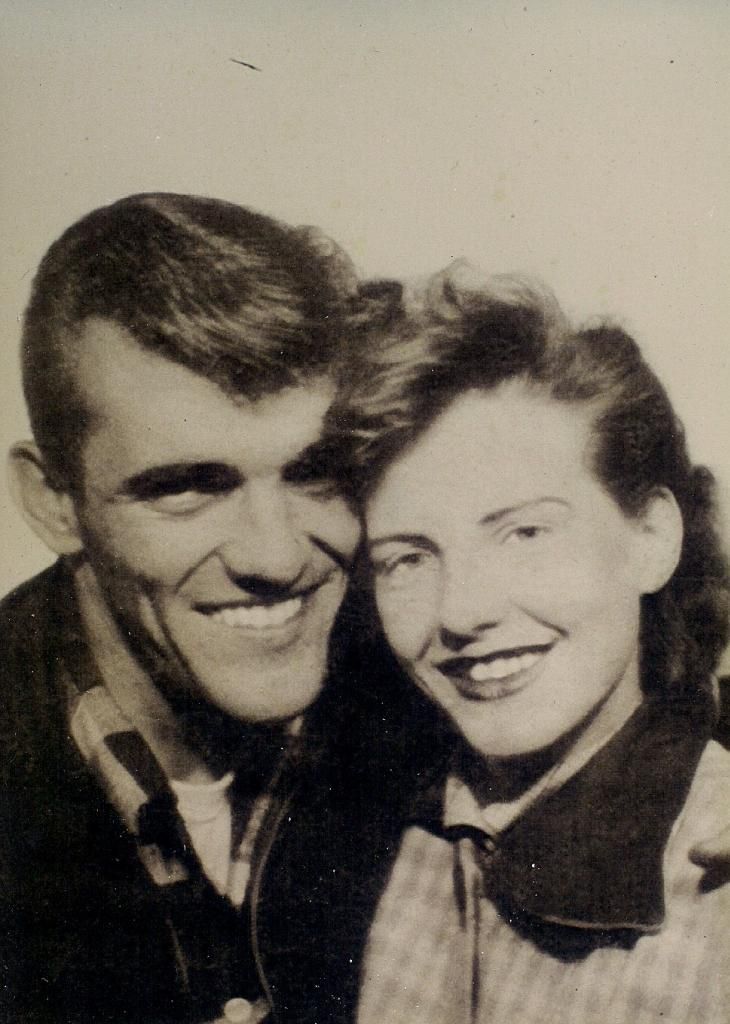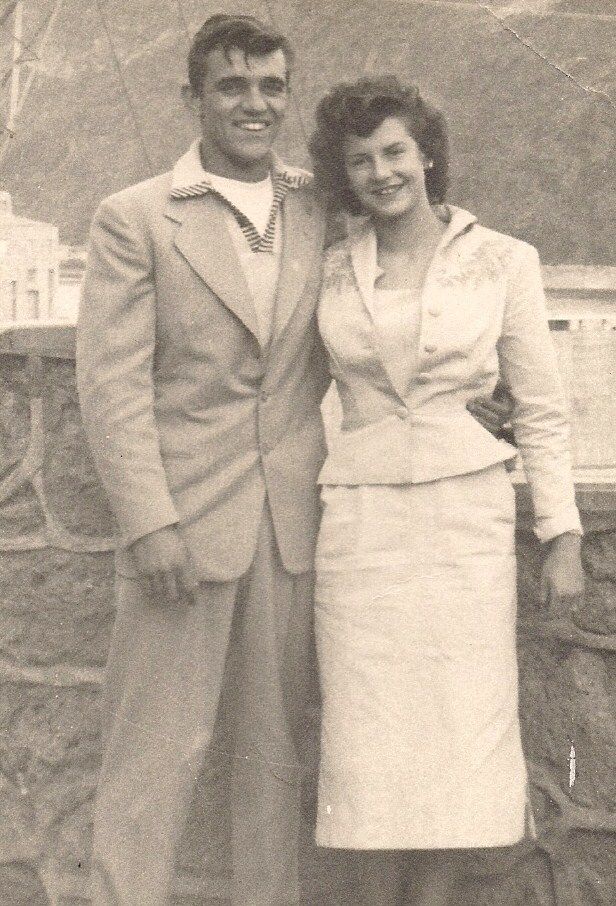 Daniel and Virginia Van Dyke were married on November 29, 1952 and renewed their vows in the Catholic Church 17 years later. Ginny was only 14 years old so Dan had to convince her mother to let him marry her. This was just one example of the many times Dan had to use his skills of persuasion and negotiation to get what he wanted. While he would use these skills for the rest of his life in business, I know this was the most important time that he got the deal that he wanted.
Dan and Ginny lived in Long Beach, California when they began their marriage. Dan continued to work in the trucking industry and owned his own truck at 17. From 1954-1960 Dan and Ginny had five children: Robert, Danny, Gene, Lori, and Susie. Danny is buried here at the cemetary.
Trucking was a much more difficult experience in Dan's day, and he even ventured away from the trucking industry a little bit, owning a bar from 1962-1968 and later moving to Parker, Arizona to get into the boating business.

But he always came back to trucking. In 1976, Dan started Doss Transportation Inc with his partner Bob Ross; you might recognize the company as DTI today.
Over the course of Dan's career it was always important that he work for himself. He never punched a time card but I guarantee he always put in more than an eight-hour day. His work ethic and loyalty in business was second to none. He was a real "handshake guy" and a true people person. Throughout his career, whenever one business opportunity didn't work out, if he couldn't negotiate his way through it, Dan picked up the pieces, utilized what he learned and moved on to his next adventure.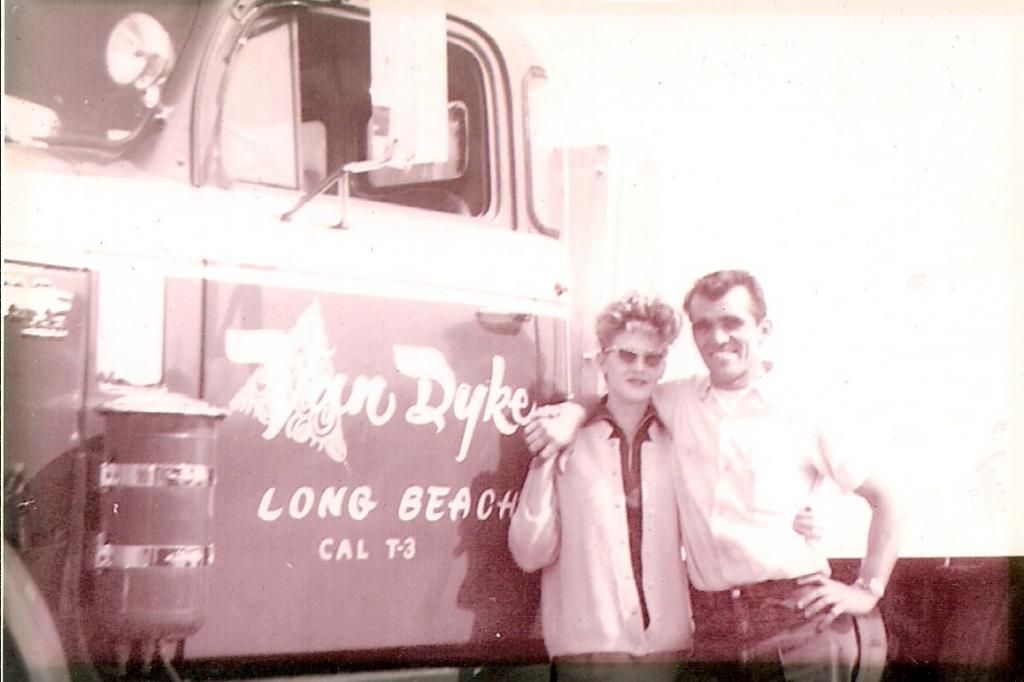 In 1985, Dan "semi-retired". This was a phrase that would follow him for the rest of his life because Dan really never stopped working. During his "semi-retirement", Dan purchased his own truck and hauled sand and gravel until 1989 when he got into business with his eldest son, Bobby. Together they formed Van Dyke Transportation, a full blown family business where you'd always find someone from the Van Dyke clan driving, wrenching or answering the phones.
In 1992, Dan was diagnosed with prostate cancer. He had radiation treatment 3 times a week for a total of 36 treatments. After the cancer went into remission, Dan's doctors continued to check for regrowth every year. They told him the radiation would give him 8-10 years, but that was 22 years ago.
Throughout all the trials of his health, Dan continued to run Van Dyke Transportation with Bobby until 2004 and even opened E-Z Weigh Truck Scale with Jim Ermigarat in the late 1990s. When it came time to "retire" again, Dan and Ginny sold part of Van Dyke Transportation to Bobby to run as R. Van Dyke Transportation in Whittier. The other part of their company became an associate of Trimac Transportation and is now owned by Marty Gevorkian as GVD Transportation in Downey. Dan was the ultimate entrepreneur. Even after he "retired" again, he continued to come up with new ideas for himself and others because his brain and his work ethic never slowed down.
While most of Dan's time was spent with family or in trucking, there was one hobby we will never stop associating with him: golf. It's very clear to see that Dan's life revolved around three things: family, trucks, and golf – in that order. My grandma said that golf would come after family if he didn't have to make a living trucking. In the 40 years that Dan played golf he made 17 hole-in-ones and his best handicap was a 12, but I think he wanted me to round down to 2. Once he even won a $5 bet with golf great Fuzzy Zeller.
This seems like a good time to apologize to Dan's Heartwell Men's Club for arranging his funeral on a Saturday golf day. While we all like to say he's here with us in spirit today, I think you gentlemen can agree with me when I say he actually just finished the 18th hole and will be joining us at the 19th after service, if you know what I mean.
Dan's love for golf was more than a hobby; as with everything in his life, it was about relationships. Some of his best friendships were built on the golf course and some of the relationships he already had were strengthened there, too. When his grandson Kennith was 12, Dan began taking him out on the golf course. Together they continued to play golf until just recently, and Dan even got Kennith into the Men's Club a year before he turned 18 despite protests from other players that the Club wasn't a day care. Dan proved that the apples in his family don't fall far from the tree as Kennith went on to graduate from the San Diego Golf Academy and now gives private golf instruction (we'll have his business card available in the back later).
As you can see, over the course of Dan's life he never stopped working and it was always for his family. What we haven't had time to include in this eulogy are all the little things Dan did to help everyone he loved: all the businesses he advised, all the drivers licenses he trained us for and the cars he helped us buy, all the extra roommates he had because his door was always open, all the dollars for the arcade games and the dollars hidden in coloring books. There wasn't a day in Dan's life that he didn't do something for someone else. And if there was, I guarantee he was *thinking* about what he could do to help solve somebody else's problem. He loved to get involved, he loved to help and he loved a challenge.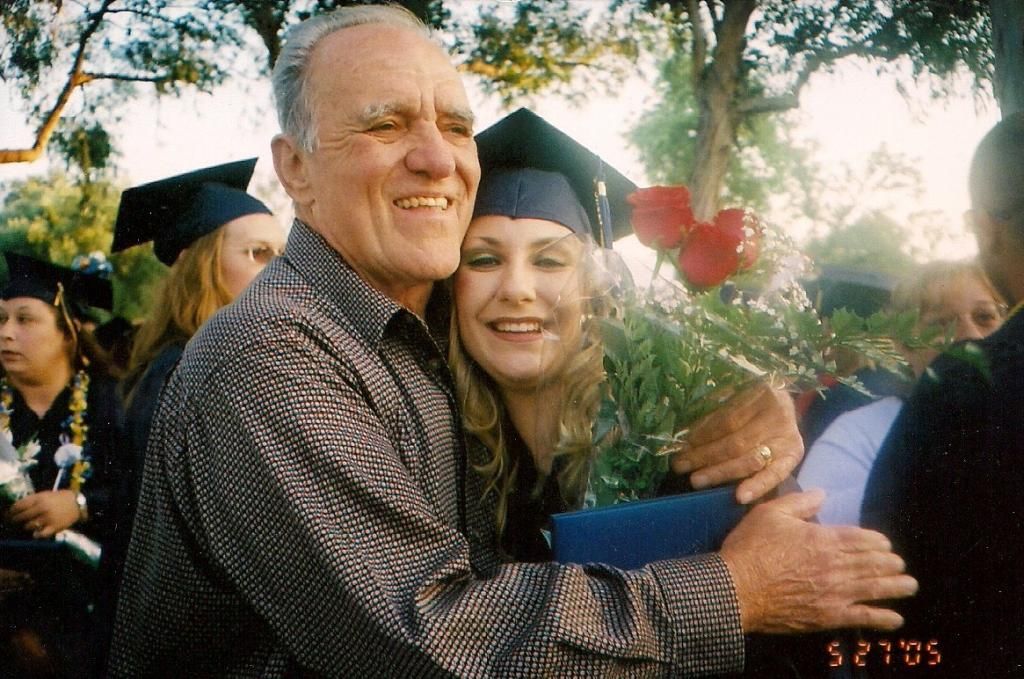 Even beyond helping people, I'll never forget how he forgave. He helped everyone who needed it, even the people who weren't as generous as he was. Sometimes I used to wonder why he wasted time on people who weren't so deserving of his extra time. Reflecting on his life I see that Dan Van Dyke was a man that took advantage of all the opportunities he could find and I'd like to say that he was just giving other people the second chances that he had found for himself.
Throughout it all, family was the lifeblood that coursed through Daniel Van Dyke's life and it all started with a very special love that bloomed in 1952. I'll never forget the way he loved my grandma and I hope you'll all surround her with your love during this time because there's nobody that loves him here like her. I also ask that you spend today sharing all of your individual stories about Dan so that we can all celebrate every facet of his memory. While we know he's already negotiating with God how to run things in Heaven, together we can continue the legacy he began and keep him alive on Earth for many generations to come.